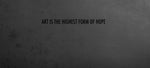 Unity
Moonlight Beach has a rich history in the community of Encinitas, California.
On June 3rd, 2020, its sun kissed sand added more to her history; over 4,000 members unified promising to pursue knowledge, love better and demand change.
A paddle out mourning a loss of life is one of the highest regarded sacred traditions our surf culture. This paddle out respected our fellow citizens unjustly lost at the hands of police brutality.
100% profits in this shop section will go directly to Black Table Arts.